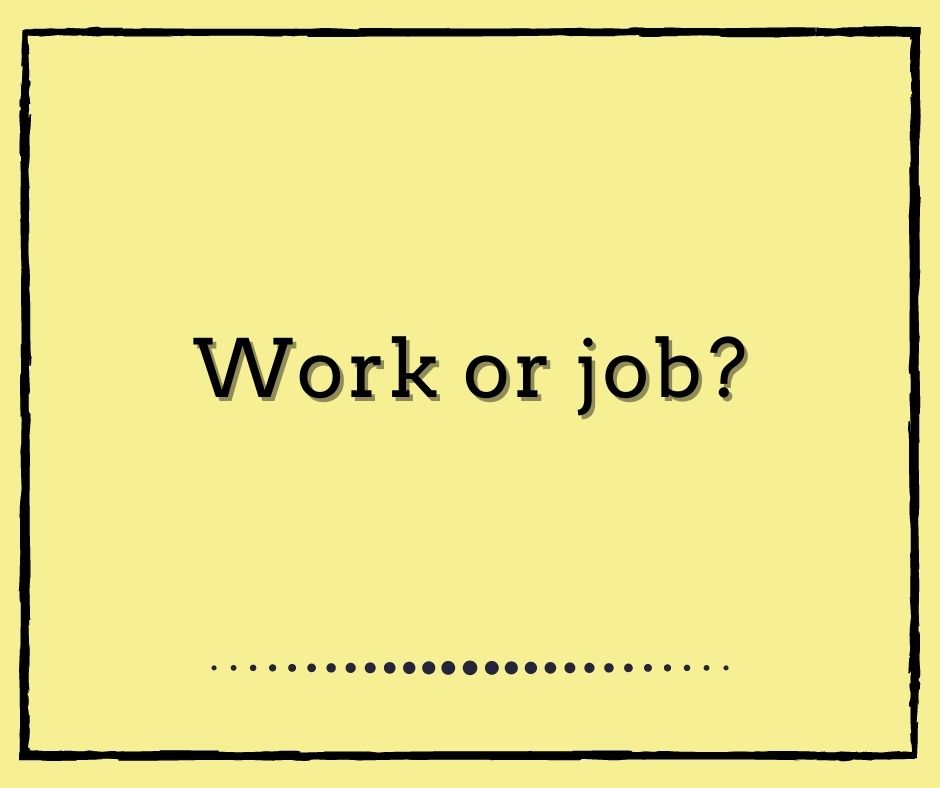 O tom akú skvelú, alebo hroznú  prácu máme, čo sme dnes robili v práci, a koľko práce máme rozprávame všetci skoro každý deň.
 Ale ako to je v angličtine, a kedy použiť  slovo Job a kedy slovo Work?
WORK:  je to sloveso aj podstatné meno
1: work ( podstatné meno) práca
Nepočitateľné podstatné meno ( nebude mať pred sebou člen ani množné číslo) a referuje na aktivity, snahu.
I have a lot of work. Mám veľa práce.
I´m still looking for work. Stále hľadám prácu.
2: work ( sloveso) pracovať
I´ve worked here for 3 years. Pracujem tu tri roky.
I work with John. Pracujem s Johnom.
I work on improving my language skills. Pracujem na zlepšení mojich jazykových schopností.
I work at/ for Telecom. Pracujem pre Telecom.
Work at/ for + firma, organizácia
Work on + projekt , úloha
Work with + ľudia a veci
3: Work v zmysle miesta , firmy, kde vykonávate vaše povolanie
We go to work by train. Chodíme do práce vlakom.
I always leave work at 5pm. Vždy odchádzam z práce o piatej.
JOB:  platená práca ktorú vykonávaš
1:  ( počitateľné podstatné meno, tj. vždy má pred sebou člen) a referuje na špecifickú rolu alebo pozíciu. Synonymá – profession, occupation
I love my job.  And what about you? Ja milujem moju prácu, a čo ty?
I´ve found a job as a driver. Našiel som si prácu ako vodič.
Being a doctor is a demanding job. Byť doktorom je náročná práca.
2:  slovo Job používame tiež keď hovoríme o malých úlohách alebo častiach práce.
You did a good job! Odviedol si skvelú prácu!
Job môže byť:
Part- time : na čiastočný úväzok, brigáda
Full-time: na plný úväzok
Demanding: náročná
Lucrative: lukratívna
Rewarding or fulfilling: naplňujúca
Ak si hľadám prácu – I look for a job, ak pošlem CV alebo žiadosť – I apply for a job.
And what about you? Do you like your job? What is your dream job?