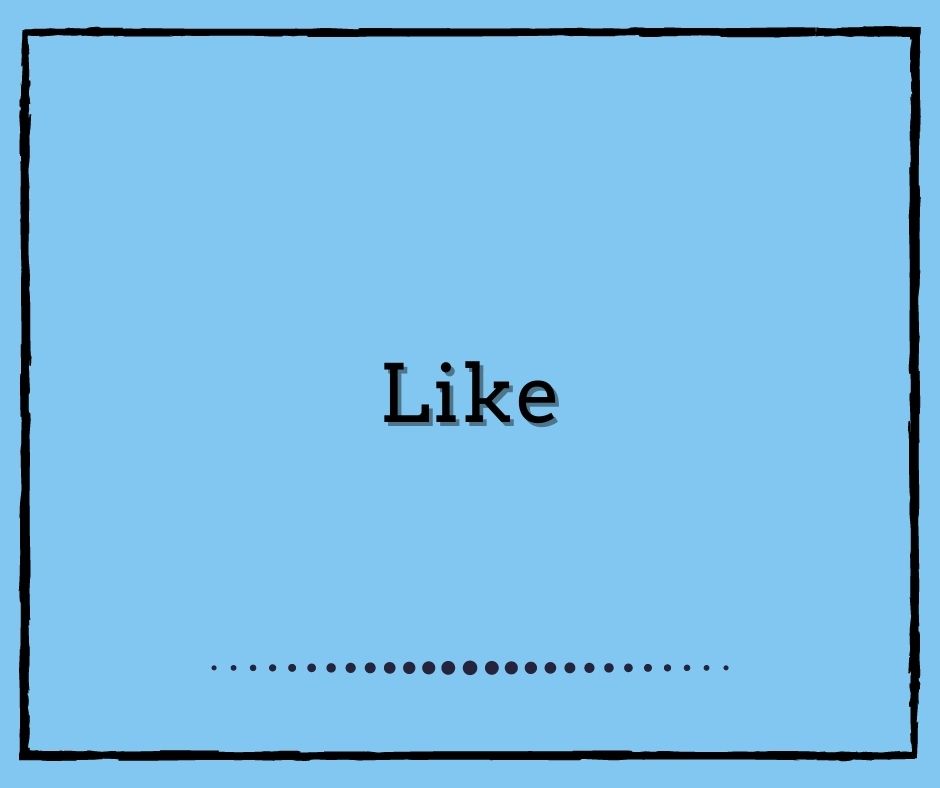 Asi všetci poznáme znak zdvihnutého palca s nápisom Like, ale okrem tejto ikonky sa LIKE používa viacerými spôsobmi, ktoré môžu byť niekedy trochu mätúce.
Poznáš rozdiel medzi týmito vetami?
What do you like? Čo máš rád?
What do you look like? Ako vyzeráš?
What is it like? Aké to je?
Najčastejšie významy slovíčka LIKE:
I sing like Madonna.
Spievam AKO Madonna.
I work like  crazy.
Pracujem ako šialený.
I look like my mum.
Vyzerám ako moja mama.
Like mum like daughter.
Aká matka taká dcéra ( Katka ) 
Poznámka! LOOK LIKE používame keď poukazujeme na fyzickú podobu.
Ak chceme povedať že je niekto povahovo, talentovo či iným spôsobom podobný , používame slovo TAKE AFTER.
Alex looks like his mum, but definetely he took after his dad.
Alex vyzerá ako jeho mama, ale určite je po otcovi ( je ako jeho otec).
What do you like? Čo máš rád?
I like Hawai pizza. Mám rád Havai pizzu.
Do you like Nirvana? Máš rád Nirvanu?
No, I hate them, I like Justin Bieber! Nie, neznášam ich, mám rád Justina Biebera.
We played games like: chess, cards and Monopoly.
Hrali sme hry ako šach, karty a Monopoly.
I would like to travel around the world.
Chcel by som cestovať okolo sveta.
I´d like to speak English fluently.
Chcel by som rozprávať plynulo po anglicky.
Tešiť sa, mať rád, milovať
We like to meet and talk.
Radi sa stretávame a kecáme.
I like to go to the nature every weekend.
Rád chodím do prírody každý víkend.
A posledná fráza : What is it like? Používame ju, keď sa pýtame aké niečo je. Napr.
What is it like to live in Norway?
Aké to je žiť v Nórsku?
Did you see the Hobbit? What was it like?
Videl si Hobbita? Aké to bolo?
Uf , tak aby toho nebolo málo, pridávam ešte dva , viacej neformálne spôsoby, kedy sa často používa slovo LIKE.
Feel like ( + sloveso s ing koncovkou ): cítim sa že…, keď máme chuť niečo ne/urobiť
I feel like watching a movie.
Pozrel by som si film.
I feel like eating some yummy chocolate cake.
Dal by som si nejaký dobrý čokoládový koláč.
Like pred priamou rečou : .. a on/ona na to, a on/ ona povedala- uvádza priamu reč.
And she was like " I´ll be right back" ..
A ona na to " Zachvíľu som späť"..
He was like " It wasn´t me" ..
A on povedal " To som nebol ja"..
So how do you like it? 🙂