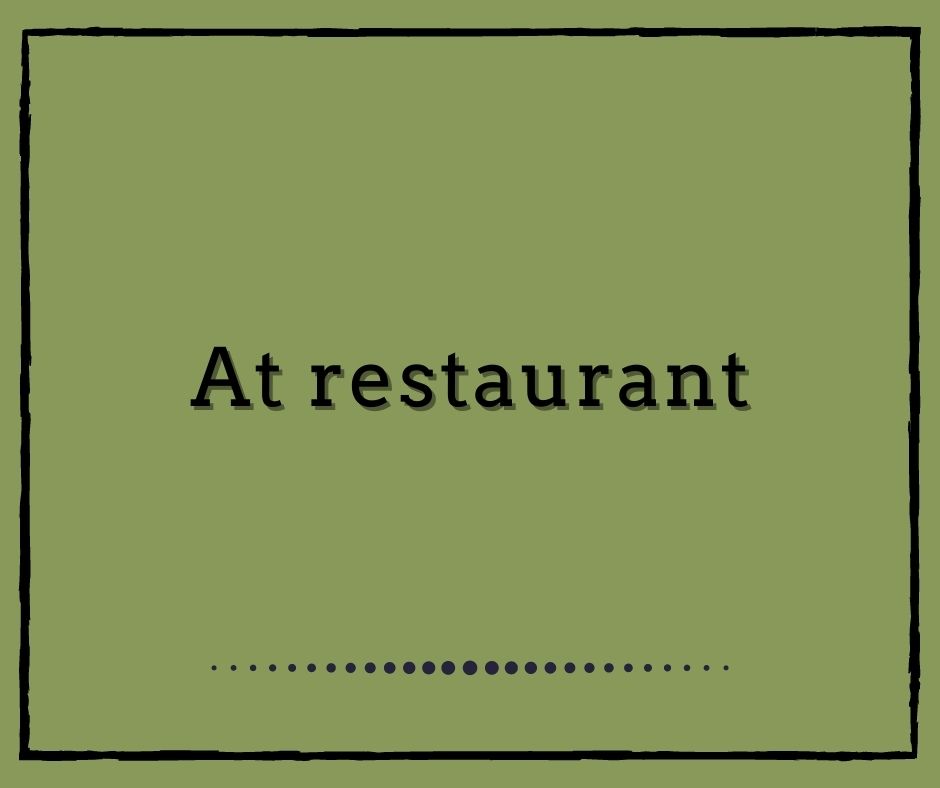 These phrases will help you to make a reservation at a restaurant and order your meal.
Pre zlepšenie slovnej zásoby ohľadne jedla vyskúšaj si tieto sety na Quizlet:
Hľadáme dobrú a lacnú reštauráciu – We are looking for a good and inexpensive restaurant.
Máte voľný stôl? – Do you have a free table?
Chcel by som stôl pre dvoch – I´d like a table for two.
Jedálny lístok, prosím – The menu, please.
Ešte som si nevybral – I haven´t chosen yet.
Už máme objednané – We have already ordered.
Chceli by sme si objednať – We would like to order.
Čo nám odporúčate? – What do you recommend?
Máte nejaké špeciality ? – Do you have any specialities?
Nie je to príliš ostré/pikantné? – Isn´t it too hot/spicy?
Môžete nám priniesť kečup/soľ ? – Can you bring us some ketchup/salt?
Chýba tu jedna vidlička/lyžička – One fork/spoon is missing here.
Toto sme si neobjednali – We didn´t order this.
Je to presolené/pripálené – It´s too salty/burnt.
Zaplatím – The bill please.
Koľko je to spolu? – How much is it?
Zaplatíme každý zvlášť/dohromady – We will pay separately/all together.
Môžem platiť kreditnou kartou? – Can I pay by credit card?
Obávam sa, že ste nám naúčtovali viac – I´m afraid you overcharged us.
To je dobré. Drobné si nechajte – Keep the change.
Vocabulary – The menu
Porcia – portion
Predjedlo – appetizer
Polievky – soups
Hlavný chod – main course
Bezmäsité jedlá – vegetarian meals
Prílohy – side dishes
Obloha – garnish
Dezerty – desserts
Nápoje – drinks
Šalát – salad
Kuracia polievka – chicken soup
Mäso – meat
Plody mora – sea food
Rybacie mäso – fish
Cestoviny – pasta
Špagety – spaghetti
Varené zemiaky – boiled potatoes
Pečené zemiaky – baked potatoes
Hranolčeky – fries
Ryža – rice
Zemiakový šalát – potato salad
Drinks
Pivo – beer
Víno – wine
Šampanské – champagne
Perlivá/neperlivá voda – sparkling/still water
Džús – juice
Čaj – tea
Káva – coffee
Desserts
Zmrzlina – ice cream
Zmrzlinový pohár – sundae
Palacinka – pancake
Koláč – pie
Dialogue
Waiter: Hello, Can I help you?.
Kim: Yes, I'd like to have some lunch.
Waiter: Would you like an appetizer?
Kim: Yes, I'd like a bowl of chicken soup, please.
Waiter: And what would you like for your main course?
Kim: I'd like a grilled fish with boiled potatoes.
Waiter: Would you like anything to drink?
Kim: Yes, I'd like a glass of sparkling water, please.
Waiter: OK, as you wish.
Waiter: (After Kim has her lunch.)  Can I bring you anything else?
Kim: No thank you. Just the bill, please.
Waiter: Certainly.
Kim: How much is the lunch?
Waiter: That's $6.75.
Kim: Here you are. Keep the change, thank you very much.
Waiter: You're welcome. Have a good day.
Kim: Thank you. Same to you.